2020-21 Grants
The Morris Educational Foundation funds projects in the Morris School District that create new models for learning, enrich the curriculum, promote self-esteem, enhance and expand enrichment opportunities, and help teachers grow professionally. Our goal is to ensure the highest level of educational innovation supporting students and staff in a partnership of lifelong learning.
$341,266 grants were approved during the 2020-2021 school year and occurred during this time unless otherwise noted as occurring during the 2021-2022 school year.
$21,400 in grants were approved during the 2019-2020 school year and will occur in 2021-2022 due to Covid-19 related school closures
$362,666 total funding secured for Morris School District students and schools
---
Initiatives for Students, Teachers & Schools
At-Home Lab Kits - $6,500
MHS 9th grade STEM students learned about new agriculture methods with at-home lab kits prepared by Grow It Green Morristown. Due to Covid-19 in-class labs were unable to occur.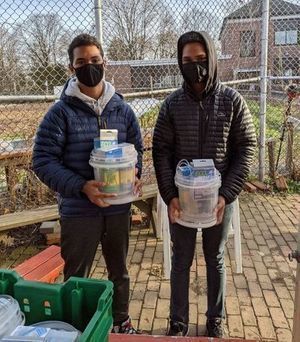 Art Supplies - $450
Painting materials to support a Sussex Avenue whole-school mural experience.

*Battle of the Books - $2,000
FMS after-school reading comprehension competition designed to increase literacy.

Buster the Bus - $12,000
Robotic bus to provide interactive bus safety education to all K-5 students in October 2021.

Chemistry Equipment - $6,500
Cutting-edge materials to enhance chemistry education at MHS.

Colonial Nation - $8,400
Alumni and community network software to bring together all Morristown High School stakeholders. All-Class reunion held with 470 participants from eight countries, 32 states and 62 class years.

Cultural Arts Annual Funding - $32,000 total
Each year the Morris Educational Foundation awards blanket grants to all ten schools to support cultural arts programming.
   Lafayette Learning Center Pre-K - $2,000 Cultural Week programming and supplies
   Normandy Park K-5 multi-age - $3,000 Zentangle whole-school virtual residency
   Alfred Vail K-2 - $3,000 Assembly for students
   Hillcrest K-2 - $3,000 Science Day programming and supplies
   Woodland K-2 - $3,000 Mural Residency
   Alexander Hamilton 3-5 - $3,000 Mural Residency
   Sussex Avenue 3-5 - $3,000 Mural Residency 
   Thomas Jefferson 3-5 - $3,000 Poetry residency with BJ Ward
   Frelinghuysen Middle School 6-8 - $4,000 Programming for students
   Morristown High School 9-12 - $5,000 Programming for students

Digital Thermometers – in-kind
Partnership with CVS Caremark to provide an in-kind donation of 1,000 digital thermometers for district families in need to perform self-check health evaluations.  

Graduation Ad - $1,300
To recognize the hard work and future endeavors of our high school graduates, a full-page Daily Record ad and print flyer was shared with the greater community. 

Handbells for Frelinghuysen Middle School - $15,250
Unable to sing in person, 250 FMS students in the 6th-8th grade choirs participated in in-person collaborative music using handbells.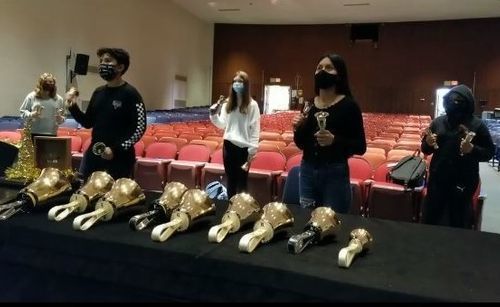 Hillcrest Story Walk - $380
Outdoor Story Walk to provide a fun, interactive, safe way for students and classes to experience literature outside.
K-5 Summer Reading - $10,000
Students received grade-specific books the last day of school to encourage literacy and activities over the summer, including two virtual book club meetings with teachers and the principal.
*MEF and MSD Family Author Experience - $8,900
This Author Experience brought second graders and their families together with a children's book author during 2019 at Normandy Park and at Alfred Vail. During 2021-2022 an author will meet with families at Hillcrest and Woodland.
MEF Student Club Advisor - $2,000
Support for an MHS staff advisor to guide our student group as they fundraise and support high school students' initiatives. This year the club funded school supplies for students with need.
Morristown Festival of Books Classroom and Library Books - $10,000 total ($5,000 from each org.)
All schools received age-appropriate books focused on diversity, equity and inclusion in partnership with the Morristown Festival of Books to allow all students to recognize themselves in their school's library collection.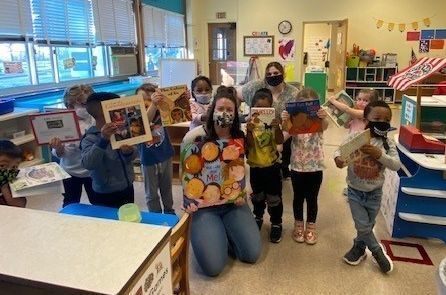 Morristown High School Theatre Sound and Lighting Equipment - $6,016
To provide a meaningful educational theater experience, sound and lighting equipment was rented for students to have the tools needed to produce a high-quality spring musical in a limited capacity. 
*Paw-Perfect Hallway - $3,000
Sensory hallway at Woodland School will enhance the in-school experience for students in 2021-2022.
Pre-K at Home Learning Materials - $3,000
Select school supplies and manipulatives provided to Lafayette Learning Center students to allow for hands-on learning during remote instruction.
Project Graduation Support - $500
Support for Morristown High School's All-Night Graduation Party's fundraiser.
*Raku Pottery Workshop - $4,500
Hands-on pottery workshop with a traveling artist will allow students to create work using specific glazing techniques and the ancient firing process.
Remote Broadcasting Equipment for WJSV - $8,200
WJSV Radio remote equipment for MHS students to broadcast and run all aspects of the radio station from remote and in-school locations. Celebrating 50 years this year, the station was able to continue broadcasting with this state-of-the art equipment.
Senior Signs for all Graduating 8th Graders and High School Seniors - $5,000
To celebrate our students' success while celebrations are still limited, celebratory lawn signs for all graduates were provided.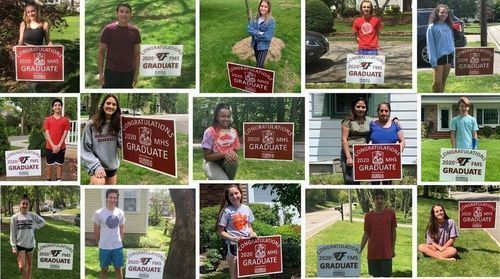 State-of-the-Art Weight Room and Fitness Center for MHS - $75,000 through outside funders
Worked with the Morris School District to coordinate a United Way of Northern New Jersey, the New York Jets and NRG funded remodeled weight room for MHS athletics.
Student Learning Resource Packets - $23,000
Underwrote the cost of a 72-page booklet of printed activities for all pre-K – 2nd grade district students along with a packet of lined and unlined paper to all Free and Reduced Lunch families in district in order to provide a consistent balance between online and offline learning.
Summer Plus and Summer Music Program Tuition - $73,000 ($1,500 per student)
Through a partnership with the Presbyterian Church in Morristown, each K-5 school and the middle school will send eligible students to the Community School's Summer Plus and Summer Music Program for years to come. This is especially helpful for students this year. 
Tablets for 6-12 Math Teachers - $6,000
To increase productivity, clarity, and engagement in mathematics lessons, 30 pen tablets were provided to teachers to eliminate the challenges of writing out mathematical equations, expressions, diagrams and graphs with a mouse or trackpad.
Take-Home Books for K-5 - $20,000
All K-5 Morris School District teachers and students received grade-level book packets and MEF bookmarks to encourage literacy. This allowed all in-person and virtual students to have the same resources as their teacher for optimal learning this year.
Tech or Treat for Teachers - $5,000
All certified K-12 teachers received Halloween treats or technology materials to assist with in-person and virtual teaching through a partnership with the Morris School District. Headphones, speakers, and other technological items were purchased directly by the MEF from Amazon.com as all district-approved vendors were out of stock of many of these hot-ticket items.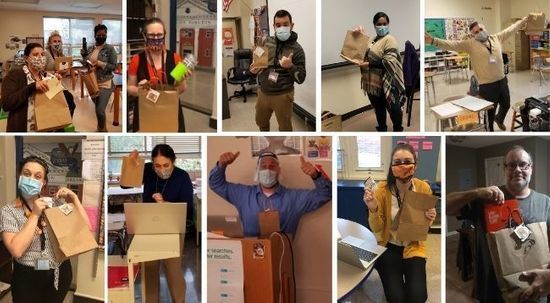 *Tutoring for Middle School - $3,000
FMS after-school volunteer tutoring program for math and language arts will return next school year serving students who are at-risk of falling behind.
Virtual Learning Equal Opportunity for All with MiFi Devices - $10,000
The purchase of MiFi devices, or personal hotspots, to ensure all K-12 students have access to reliable WiFi in their remote learning setting was integral in ensuring equitable learning for all students.
Vocational Work Experiences in the Classroom - $1,800
Vocational Task Boxes for students aged 14-16 participating in the MSD Transition Skills Program to obtain prerequisite job skills prior to participating in the Work Based Learning Program. 
Community Programs
Parenting Through COVID: Strategies for Promoting Youth Well-Being - funded through the MHS HSA and Joint Municipal Alliance of Morristown and Morris Township
Dr. John Duffy, clinical psychologist, best-selling author, certified life coach and parenting and relationship expert, provided parenting guidance and support to help cope with stress and anxiety due to the pandemic.

*Due to COVID-19, school closures forced the postponement of some grants. This grant was approved during the 2019-2020 school year but will occur during the 2021-2022 school year as classrooms reopen.