15th Anniversary Raffle
Morristown ONSTAGE is excited to offer a premium 15th Anniversary 50/50 Raffle to raise funds for the return to the in-person talent show where the featured grand prize is $15,000! Priced at $100 per ticket, the raffle gives supporters seven chances to win one of the following guaranteed anniversary prizes:
Grand Prize - $15,000 cash prize
First Prize – $10,000 cash prize
Second Prize – One of five $1,000 cash prizes 
The 15th Anniversary Raffle has ended! Thank you to all ticket buyers and congratulations to the following winners:
$15,000 cash prize:    Ticket #450
$10,000 cash prize:    Ticket #31
$1,000 cash prizes:    Ticket #12, #508, #538, #404, #269
The prize draw is open to entrants 18 years and older. Drawing to be held on February 23, 2022 on the Mayo Performing Arts Center, 100 South Street, Morristown at 9pm EST. Ticket holder need not be present to win. The 50/50 raffle will occur at the end of Morristown ONSTAGE and winners will be notified as well. No substitution of the offered prize may be made. Winner will pay taxes. Raffle benefits the Morris Educational Foundation.
---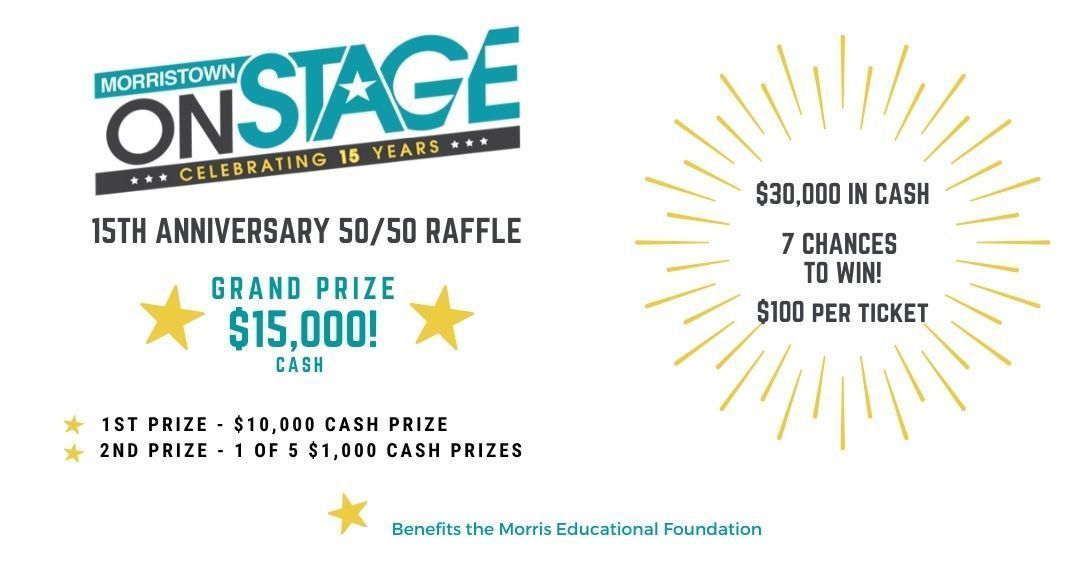 ---