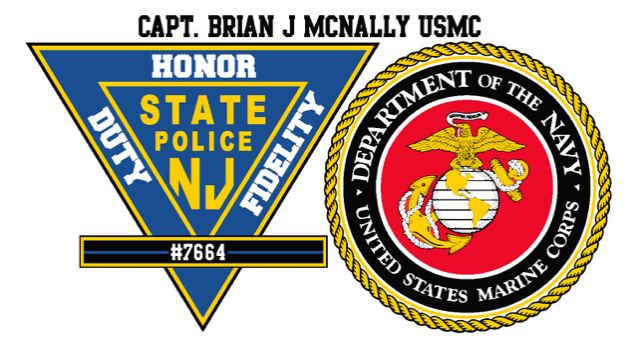 Capt. Brian J. McNally USMC
Brian McNally a lifetime New Jersey resident, raised in Morris Township, attended Morris School District schools and graduated from Morristown High School 2006.  Brian participated in various youth sports; Morristown Little League, Colonial Pee-Wee Hockey, Jr Colonials football, and  Cromwell Hills swim team. During his high school years, Brian participated in football, lacrosse and swimming as a varsity athlete and was an active volunteer with MHS Habitat for Humanity Campus Chapter and co-President of the Heritage Club. As an active member of Boy Scout Troop 34 Brian earned the rank of Eagle Scout. Brian was an certified EMT volunteer with Morris Minute Men and volunteered as a Morris Township Fire- Fighter. Brian also focused on academics, including AP and Honor classes and was awarded several scholarships for his academic success and community service.
Brian attended The Citadel, Charleston, SC where he became part of the Honor Guard his Knob (Freshmen) year, played Lax, was the XO of his Company both Junior and Senior year and was awarded a Scholarship from US Marine Corps which required 5 years of military service upon graduation. Brian successfully graduated from Officer Candidate School (OCS) with the US Marine Corps, Quantico, Virginia. At The Citadel, Brian was Commissioned as a 2nd Lieutenant with the US Marines, and subsequently assigned to the Basic School, Quantico, VA for 6 months. 
After the Basic School, Brian was assigned to the 1st Marine Division – 3rd Light Armored Reconnaissance (LAR) Battalion - an Infantry Unit, known as the Wolfpack, at Twenty-Nine Palms, CA, located in the Mojave desert preparing for deployment to Afghanistan. While in Twenty-Nine Palms, his unit attended San Diego State Univ. to become familiar with culture and  Pashai language (the language of the Helmand River Province, Afghanistan). Brian was deployed to Afghanistan commanding a Unit of US Marines that served for 8 months in the southern most Outpost. Their mission was to protect three different villages from the Taliban, stop the running of drugs from Afghanistan to Pakistan and build working relationships with the villagers allowing US and Allied forces to preempt the Taliban. 
After completing his years of Active Duty, Brian returned to Morristown, and  was accepted into the NJ State Police Academy in Sea Girt, NJ for 6-months of training. He graduated from the NJ State Police class 154, in August of 2014. Brian had many different and various responsibilities with the NJSP and worked most recently out of the Washington Barracks in Warren County.  While working  as a NJ Trooper, he continued his service with the USMC as a Capt. assigned to command 3rd Battalion 25th Marines , Kilo Co., a Marine unit in PA of 150 Marines.
Donate Today